For easy swallowing
Compared with hard capsules, soft gelatine capsules are thicker and require additional ingredients such as glycerin to obtain their soft texture. Depending on the formula, the thickness of the capsule, its elasticity and its degree of residual moisture can be adjusted. Perfectly suited for liquid or semi-solid fillings, soft capsules are widely used to deliver pharmaceutical substances and a wide range of nutraceutical supplements, such as omega-3 fish oils. Many consumers prefer soft gelatine capsules as they are easy to use and swallow.
Did you know? Soft capsules are made using a process invented by Robert Pauli Scherer in the late 1920s – one of GELITA´s predecessors.
GELITA RXL RELEASE EFFECT: THE PERFECT (DIS)SOLUTION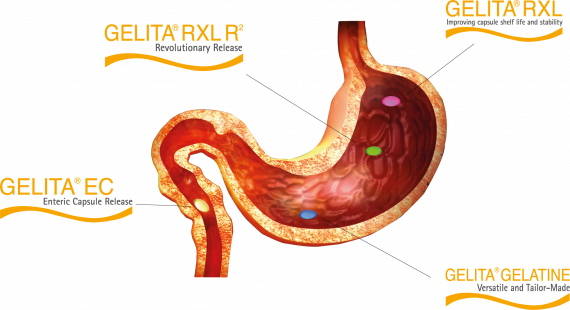 For many pharmaceutical applications, GELITA® Gelatine is indispensable for decades. Although mostly used for hard and soft capsules, GELITA® Pharmaceutical Gelatine is also essential for many other applications. It's a binder in tables and acts as matrix in vitamin coating. Low endotoxin gelatines are the basis for plasma expanders, vaccines and haemostatic sponges.
In particular, it's the film forming ability, thermo-reversible gelation properties and adhesive behavior that make GELITA® Gelatine so versatile. With outstanding innovations such as the patented GELITA® RXL gelatines for reduced cross-linking, GELITA has set new standards in stability and dissolution for gelatine capsules. As a leading supplier of all types of gelatine, GELITA offers also Kosher and Halal variants.
In general medium Bloom gelatine (between 150 and 200 g Bloom) is used for the production of soft gelatine capsules. Special coatings enable gastric juiceresistant capsules for a delayed dissolution in the intestine.
Perfect for liquid or semi-solid fillings
Protection of sensitive fills from atmospheric oxygen, light, moisture, dust and other environmental influences
Optimized dissolution – improved bioavailability
Optimal setting properties
Specialties: GELITA® RXL and GELITA® RXL R² Portfolio with reduced cross-linking properties and revolutionary fill release