VERISOL® delivers unmatched benefits
Holistic beauty and wellbeing through healthy skin, hair and nails
VERISOL® provides multiple benefits with the daily and effective low dose of 2.5 grams* VERISOL®.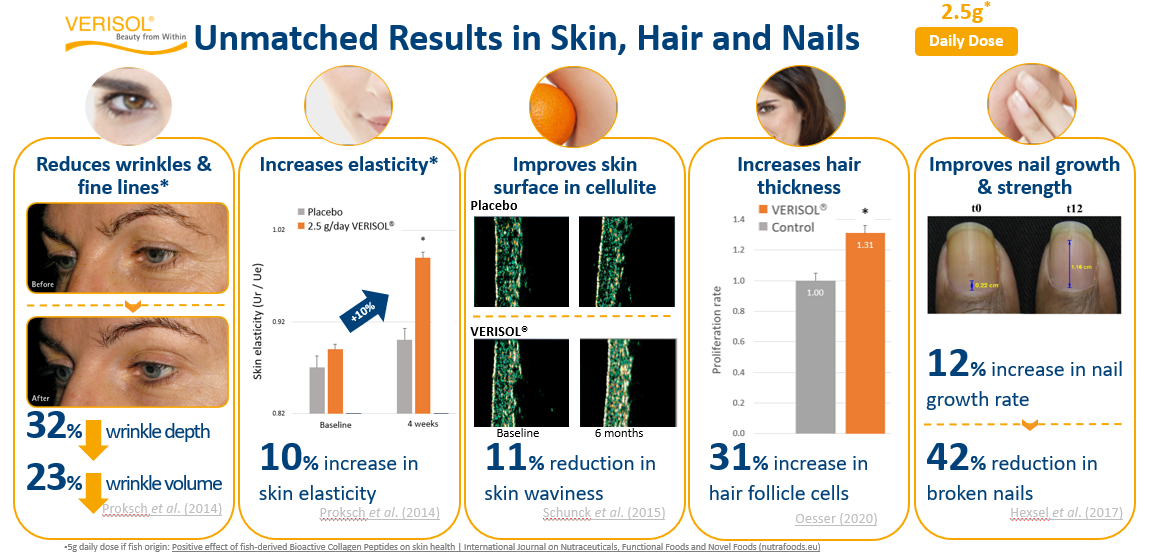 So, while any one of these benefits would prove valuable to consumers, the overall collection of VERISOL® advantages is unmatched!
*VERISOL® from fish raw materials requires a 5 g daily dose
---
Healthy skin, hair and nails need collagen!
The critical role of collagen in the human body.
About three fourths of the body's skin is comprised of naturally occurring collagen. This collagen plays an important role in the health of our skin, hair and nails; foundational in how we feel about our appearance and overall wellbeing.
This collagen production peaks in early adulthood and declines as we age. As we lose collagen, we see and feel the effects of aging: fine lines and wrinkles, loss of elasticity, dullness, unevenness, dryness; brittle nails; cellulite and thin hair.
"Let's be honest. Until thirty, beauty is about maintenance; after thirty, it's war."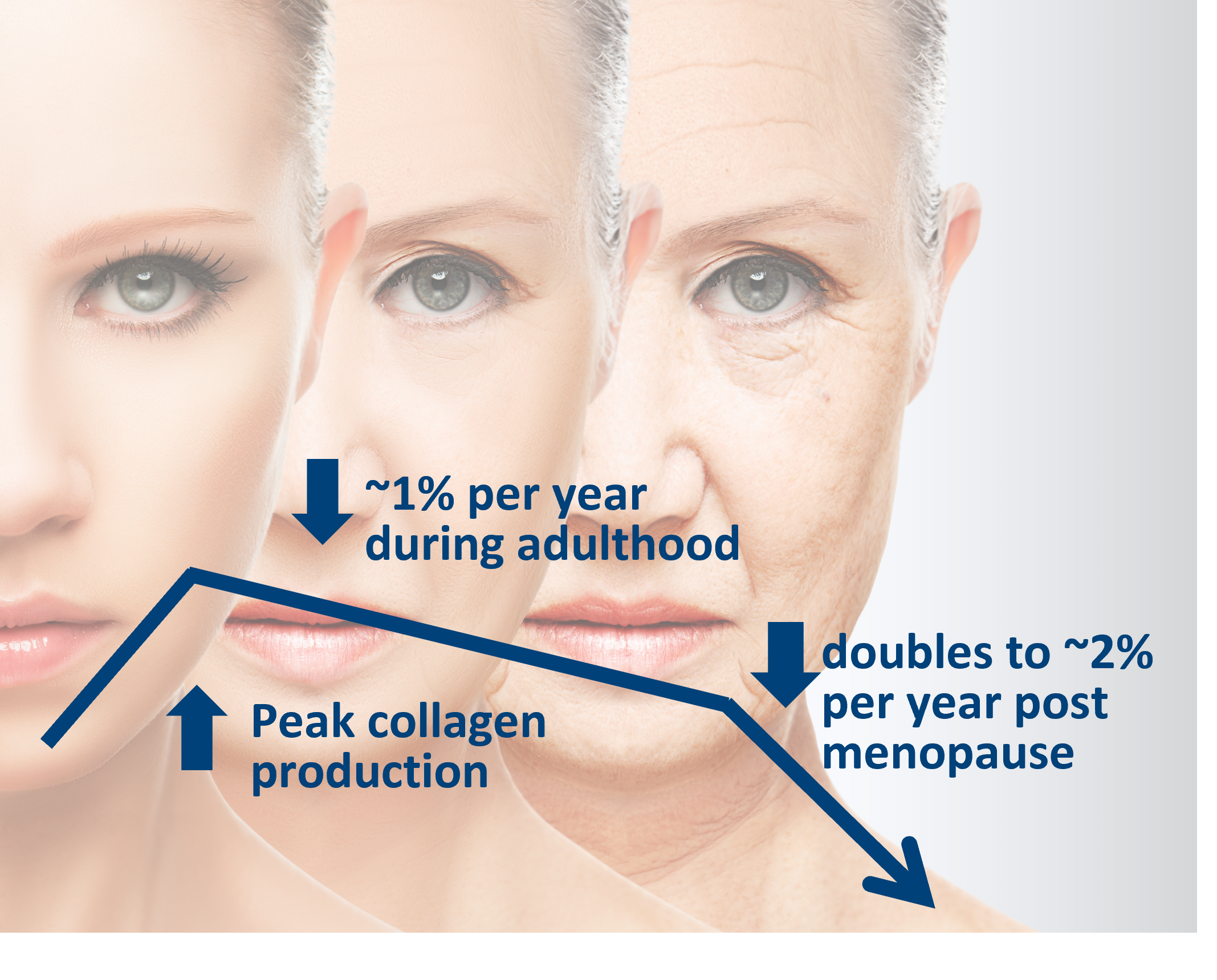 Fight this war with VERISOL®.
---
Consumer health or personal care companies need a VERISOL®-based beauty supplement!
Collagen – the hottest ingredient for beauty from within!
In consumer goods for skin, hair and nail health, one ingredient dominates: Collagen. Collagen has grown at a rate higher than other ingredient for skin health in supplement, food and beverage product launches positioned for skin health!*
The beauty from within market was estimated as a 4 billion US dollar market at the end of 2022. Experts conservatively estimate growth of 11 per cent year on year through 2030 (doubling in size), after already several years of strong growth.**
And VERISOL® is the definitive answer for beauty from within!
*Innova Market Insights new product launch database: 2016- 2020
**NBJ Condition Specific Report`22; Figure extrapolated from: Markets and Markets, "Dietary Supplements" - Global Forecast to 2027/ NBJ, "Global Supplement Business Report", 2022
---
We've got the science if you want to know how VERISOL® works
VERISOL® offers clinically proven efficacy
First – VERISOL® is ingested orally, where it is absorbed and distributed through the blood stream where it reaches the target cells (fibroblasts, for example, in skin). VERISOL® offers high bioavailability.
Once reaching the target, VERISOL® stimulates the cells via receptor interaction, to produce more extra-cellular matrix including collagen and other components such as elastin, proteoglycans, hyaluronic acid, etc.  VERISOL® provides unmatched bioactivity.

The increased synthesis of connective tissue leads to beauty benefits such as reduced wrinkles, improved elasticity, more voluminous hair, stronger nails and more!
---
Experience true beauty from within with VERISOL®
Unmatched by any other single collagen peptide.
VERISOL® is:
Consumed worldwide by nearly 3.5 million people every day
Confirmed by six VERISOL®-specific, high-level published clinical studies
Key global regulatory approval for confidence of compliance
Used by more than leading 300 global brands for beauty from within benefits
Available worldwide, meeting widespread and ethnic market requirements
Appeals to diverse markets for personalized and inclusive beauty throughout all phases of life, with low dosing
Supported by a broad innovation pipeline to meet future and anticipated consumer demands
This confirms that VERISOL® is indeed THE definitive answer for beauty from within.
---
We have answers if you have questions
Frequently Asked Questions or Contact Us!
Collagen can be an overwhelming topic. Cut through the noise. Have a look at the most frequently asked questions.
Still didn't find answer to your questions? Our market, regulatory and scientific experts love are bubbling with information on all things health and beauty. Contact us today.