Back of the net! Injured freestyle football star's secret to rapid recovery
World-leading freestyle footballer Raquel Benetti is never one to take her eye off the ball – both literally and metaphorically – and it's a philosophy that served her well when she recently suffered a potentially devastating injury.
Born in 1990, Raquel is a Brazilian athlete, not to mention model and digital influencer, so clearly a woman of many talents! She also happens to be a leading exponent of freestyle football, and has serious skills when it comes to performing highly complex manoeuvres with a ball, including mind-blowing balancing tricks.
Born and raised in São Paulo, she started to kick a ball around as a kid, playing with the boys in her neighborhood. But she's come a long way since then, achieving social media stardom with her incredible ball skills and amassing an impressive one million followers.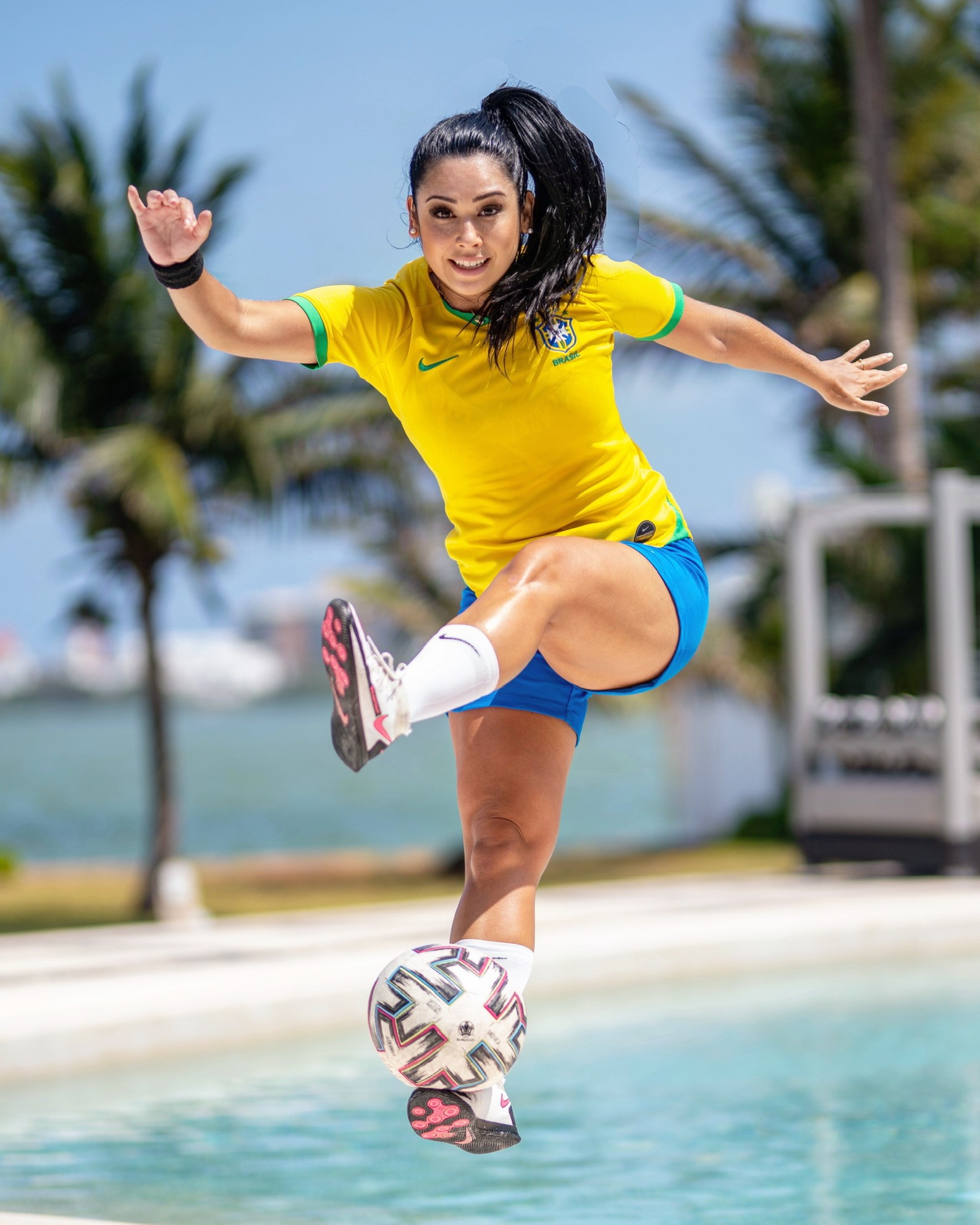 In 2021, 'Raquel Freestyle', as she's nicknamed, was announced as a winner of the first-ever Tik Tok Awards in the "Joga y Joga" (sports juggling) category. But that same year, disaster struck when she suffered a torn anterior cruciate ligament (ACL) in her left knee while playing a football match.
The month after sustaining her injury, she underwent reconstructive surgery, which was followed by physiotherapy and supplementation with TENDOFORTE® (10g/day).
"I was aware of GELITA's brands before the accident, having previously used other products containing their bioactive collagen peptides," explains Raquel. "It was easy to include TENDOFORTE® in my daily diet, and without fear of any negative consequences. It turned out to be a good decision, as the doctors and physiotherapists who treated me were unanimous in their opinion that my recovery happened faster than expected. What's more, the pain I had after surgery was significantly reduced within a few months. I'm in no doubt that I have TENDOFORTE® to thank for that."
An anterior cruciate ligament tear usually happens due to sudden changes in direction when running or jumping. Muscle strengthening exercises can help prevent the problem and are recommended for athletes who work the knee joint area intensively. Raquel sustained her injury after her preventive muscle training was interrupted as a result of a work trip.
In general, rehabilitation after such an injury can take between six to nine months, along with physiotherapy to help support joint flexibility and stability. Supplementing with specific collagen peptides, however, can not only aid recovery but also support injury prevention.
"GELITA is recognised for its solutions based on scientific studies, and I recommend them to everyone I meet," says Raquel. "Now my big goal is to break the world record for female 'ducks' and have the feat recognised as a Guinness World Record."
Shoot for the stars, Raquel!
To find out more about the beneficial and proven effects of the Bioactive Collagen Peptides (BCP®) in GELITA's portfolio of products, please don't hesitate to get in touch.
Our Experts
社交媒体
在Facebook,Twitter,Youtube,LinkedIn和Instagram上关注我们或分享此页面。