The role of collagen in immune health and GELITA's solution: IMMUPEPT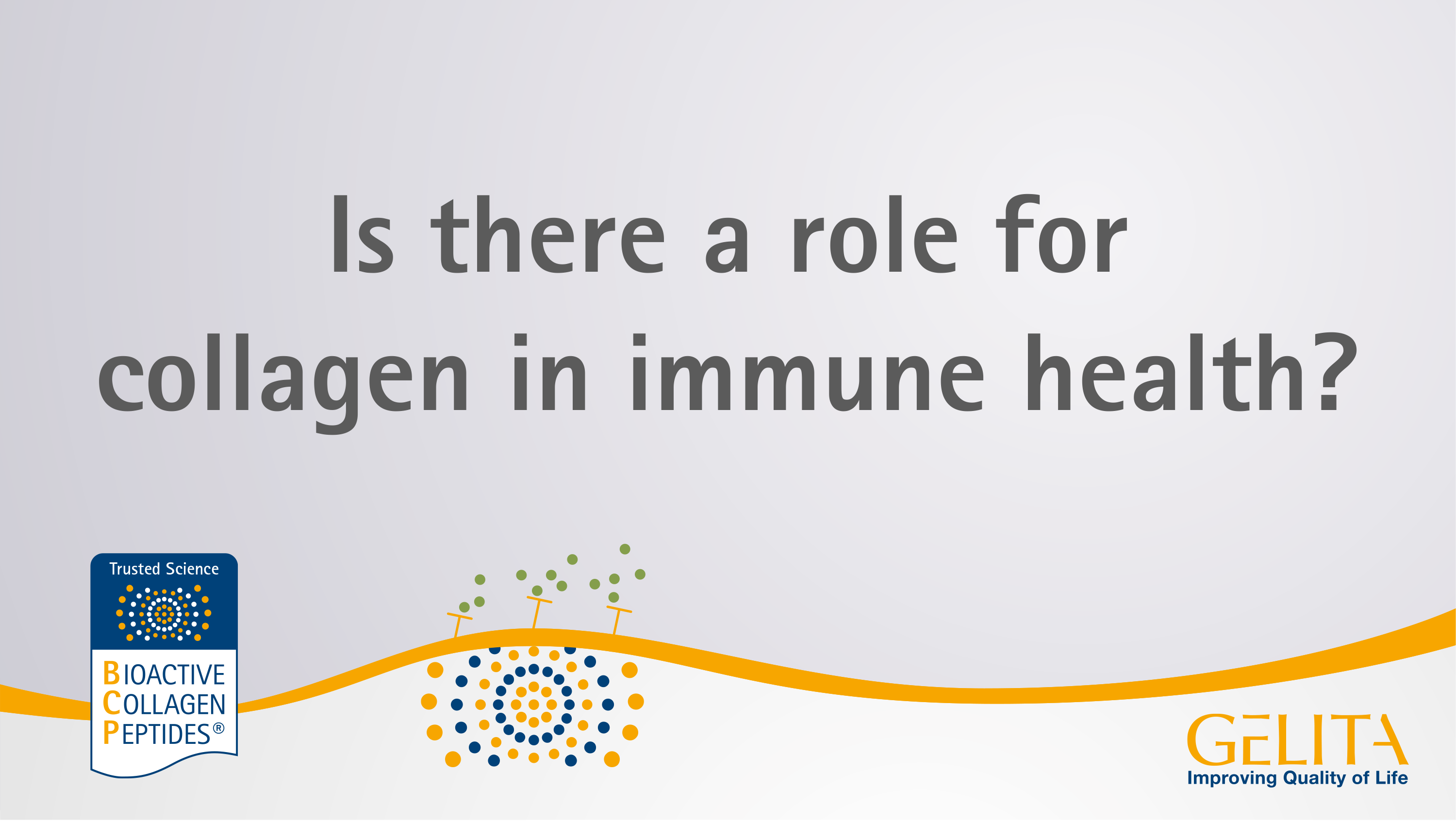 Eberbach, January 2021. Immune health concerns continue to rise in the minds of consumers. GELITA recently hosted a webinar to reveal the novel role of collagen and the new product IMMUPEPT™ in immune health.
Immune health is one of the fastest growing supplement categories, and it is here to stay. After vitamins and minerals led the first wave of immunity supplements, protein is now emerging as a critical nutrient. Here, GELITA reveals the greatest potential for specific collagen peptides in the next generation of immunity products.   
The role for specific collagen peptides in immune health
Understand the latest study findings
GELITA, along with the Collagen Research Institute (CRI), shared new scientific evidence highlighting the role of collagen-rich tissues in supporting a well-functioning immune system. Scientists and health professionals are increasingly recognizing how these tissues, namely skin, bones, as well as the whole-body extracellular matrix, also play a role in the immune system. Skin, for example, is the body's most important barrier, and the first line of defense in protecting immune health. Bones are collagen-rich, and all cells of the immune system derive from the bone marrow. Bone cells also regulate the activity of immune cells, and vice-versa, in a bone-immune system interplay. Less known is the role of the whole-body extracellular matrix, also a key component of the dermal layer of the skin, where most immune cells live, and where several immune responses take place.
GELITA's latest addition to its portfolio of Bioactive Collagen Peptides® is IMMUPEPT™, which offers the benefits of collagen peptides to the immune health category. IMMUPEPT™ features optimized peptide profiles for stimulation of the collagen-rich connective tissues involved in the immune response, adding a more holistic approach to immune support.
IMMUPEPT™ 25 is designed to optimally stimulate keratinocytes (the cells that maintain the skin's barrier of defense) and fibroblasts (the cells that optimally regulate the biosynthesis of several functional extracellular matrix proteins involved in the immune response). Further, IMMUPEPT™ 50 offers an added benefit with specific peptides that stimulate the specific bone-remodeling cells that maintain healthy bones, important for the bone-immune system interplay.
In addition to a deep understanding of the role of collagen-rich tissues in immune health, GELITA also shared, for the first time, new preclinical data from the Collagen Research Institute. These new trials are indicating an immune modulating effect from the Bioactive Collagen Peptides® in IMMUPEPT™, showing potential to regulate three key factors for an effective immune response: reduced inflammation, reduced tissue damage and reduced oxidative stress.
As global food and health & nutrition companies are being called upon to respond to the growing consumer desire for immunity, the launch of IMMUPEPT™ underscores the commitment GELITA has to advancing the understanding of how specific Bioactive Collagen Peptides® benefit immune health, in a holistic way.
The webinar is now available for on-demand viewing. Visit www.immupept.com for additional information and to access the webinar