We may be getting older, but we still want to follow an active lifestyle with a healthy body and a bright mind. Physical and mental health are incredibly valuable. At ATRO ProVita, we offer a comprehensive range of nutritional supplements which look after both of these and help us stay fit, in every respect.
Healthy joints and stable bones are essential for an active lifestyle. Erosion of joint cartilage and loss of bone mass often come with getting older – some people feel the first symptoms in their mid-forties. But this is not inevitable: The GELASTIN® range of ready-to-drink products help to protect and regenerate joints and keep them smooth and flexible.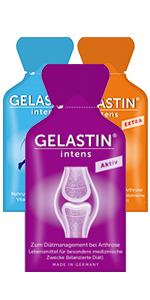 Based on special bioactive FORTIGEL® collagen peptides, GELASTIN® stimulates the synthesis of new joint cartilage tissue. The ready-to-drink packs are convenient and also ideal for use on-the-go. The full GELASTIN® range includes variants in different flavours as well as products fortified with rosehip or magnesium. To strengthen bone structure, we have developed a mineral drink with additional vitamins and proteins. GELASTIN® joint-gel and bath essence round off our portfolio for pain-free joints.
For smooth skin, we offer ATRO® DermaGold, which contains VERISOL® bioactive collagen peptides to give your skin more elasticity and firmness. Why not look younger than you are?
ATRO ProVita will also take care of your heart health, your immune system and your mental fitness with a range of scientifically developed products.
More information: www.atro-provita.de